Latest posts by Michał Nowacki
(see all)
6 reasons why you should move your next project to Poland
There is a fine line between what it means to outsource IT services to Poland and what a software development in our country is like. It is tough to explain one without mentioning the other. The idea of IT outsourcing we have included in our recent post called 3 reasons why outsourcing to Poland is the new IT thing. Today, we would like to take a closer look at software development and 6 reasons why you should move your next project to Poland.
1. Stable economy
You have probably heard of Poland in terms of it peacefully fighting the communism and transforming into a democratic and capitalistic country. Since 1989 a lot has changed in the Central and Eastern Europe. We have experienced 28 years of continuous growth that has shaped our modern and innovative society. Nowadays, Poland can be surely called one of the most dynamic economies in the European Union.
A country's economic stability is something you should definitely pay attention to when looking for a good place to outsource your IT projects. What is remarkable about Poland is that it was the only country in the EU not affected by the recession of recent years. While for most of the Western countries, the years of 2008-2012 were very financially challenging, Polish GPD was continuously increasing. When in 2012 it raised up to 1.9 percent, the average GDP of all EU countries was still around -0.4%.
2. Popular outsourcing destination
When it comes to the number of outsourcing facilities, Poland has already surpassed other offshore countries (including India). Substantial investments that have been made in recent years (also thanks to the European Union membership) significantly improved Polish infrastructure. Fast internet connections, as well as new data centers, have made the communication with other countries easy and efficient.
Key factors which make Poland such an attractive outsourcing destination include:
Despite the fact that the Polish economy is constantly developing, it still has not caught up with most of the Western countries. Therefore, wages in Poland are not as high as in the rest of European Union. It means that we can produce low-cost software while maintaining the same level of quality.
Did you know…

that the same job can be done in Poland even 3 times cheaper than in the USA? The average monthly gross remuneration in Research & Development centers in Poland amounts to $2,800 for software developers and not more than $3,000 for projects managers.
Even in the times of omnipresent technology, Wi-Fi connection considered a human right and unlimited phone calls and text messages as a part of basically any data plan, geographical location still plays a significant role in terms of effective communication. In the case of offshore developers, the logistics of scheduling conference calls and asking questions may be challenging. Due to time zone differences, it usually takes at least a day to obtain an answer to your question. Therefore, Poland's time zone, that is compatible with the majority of European countries, makes it a perfect offshoring destination as it is very easy for partners to meet whenever needed. In addition to that, Poland belongs to the Western cultural circle. It might seem like an unimportant detail, but common history, shared values and a similar sense of humor are very important factors that shape cooperation between business partners as well. Another very important factor is Poles' very good command of English. It is a great advantage when communication is being handled primarily via phone or E-mail.
An essential factor providing Poland's with its place on the outsourcing map is its very large pool of highly skilled specialists. Currently, there are over 140,000 staff employed in the IT sector in Poland. The level of IT skills found among Polish developers matches the level found in the Western European countries. Each year, 15,000 graduates of IT faculties enter the labor market in Poland, while almost 100,000 high school students attend IT courses. Additionally, according to the Central Statistical Office, the number of graduates in information technology is increasing. The high standards of the Polish educational system are confirmed by the many awards and prestigious competitions won by Polish programmers. Every year the quality of Polish IT professionals is recognized in international contests such as the Code Jam, the Imagine Cup or the Google Code Jam. Polish IT professionals win significant part of all awards every year, which serves as proof of their excellent skills.
3. Rapidly growing IT market
The favorable economic and industrial conditions are also the reason for a continuous boost of Polish IT sector. According to statistics published by DiS, the value of the market increased by 4 percent and reached 21.2 billion PLN in 2013, which represented around 1.5 percent of Poland's GDP at the time. 2016 brought a growth rate of 4.1% to approx. 34 billion PLN. With the end of 2017, it is forecasted that this ratio will be even higher and will amount to 5.5% (35.8 billion PLN). Industry analysts forecast that the Polish IT services market will sustain the dynamics of growth also in the following years.
All those numbers make Poland the fastest developing IT market of the Central and Eastern Europe. The company Kapsch BusinessCom has come up with an index that compares the situation of the ICT sector in Austria, Czech Republic, Slovakia, Romania, Turkey, Hungary, and Poland. As the study shows, Poland with its overall top results in nearly every category has the largest growth potential in IT services in Central and Eastern Europe.
4. Agile methods of development
Poland is an excellent environment for handling agile IT projects. It is common knowledge at Polish software houses, but not the as popular choice among businesses in this part of Europe. It means that even though our development teams are proficient at producing software in the framework of Scrum, not many of the local companies are aware of its advantages and still prefer to cooperate using traditional methodology. Furthermore, it creates an opening for all the other stakeholders (also from distant parts of the world) that choose the agile approach to software development. It is a preferable option for many software houses in Poland and if they have a client that agrees with it, they will most likely give it a priority.
5. Modern start-up culture
Apart from outsourcing, another growing trend is the Polish start-up culture. Young entrepreneurs in Poland know how to take advantage of all the described factors and use them in favor of an innovative, buoyant businesses. Due to the compilation of Lean Startup approach with the outsourcing of services, same treatment applies to all the novice companies from around the world, that choose to work with Polish software houses. It means that you can get a Minimum Viable Product version of the software and have it prepared by the same development team as the one working with the biggest corporations.
In addition to that, Alison Coleman in her article for Forbes.com shared the results of another report confirming the strength of Polish start-up economy. The poll quoted by the journalist revealed that of just over 2,400 Polish startups, 39% were software development enterprises, mainly selling their products as SaaS. Of the startups that were growing at more than 50% annually, most were doing so through the sale of mobile and big data services to large corporations. Above all that, over half (54%) of Polish startups are exporting abroad, mainly to the US and UK.
6. Innovative technology
Polish developers are known for being well-educated and proficient in most of the newest programming languages. Thanks to the specificity of the IT sector, there is no information gap between places like Silicon Valley and Poznan (eVolpe Headquarter), Poland. With just the use of internet, programmers from all around the world have the possibility of learning the latest high-tech solutions. Having that in mind, there is absolutely no problem to get applications written in Python, Java, PHP or JavaScript from Poland. All of those technologies listed in the ranking below are commonly known by Polish developers who participate in their popularization and development.
In addition, Polish developers are considered the best specialists of PHP and JavaScript. Statistics show that among all the options, the most popular is definitely PHP.
It is also worth mentioning that in comparison with other countries, Poland has very advanced skills in Java, Python, and Ruby.
Countries with the Best Developers by Domain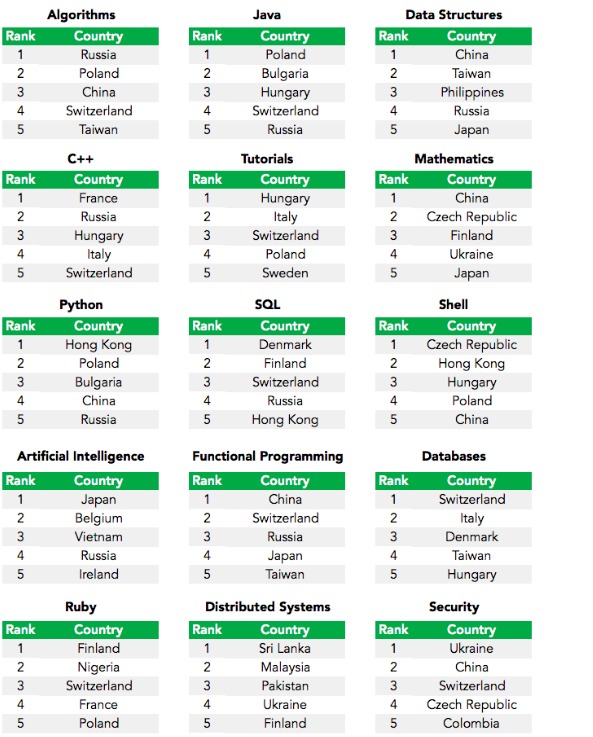 Latest posts by Michał Nowacki
(see all)