3 reasons why outsourcing to Poland is the new IT thing
According to the Global Services Location Index™ Poland is one of the most popular destinations to outsource services to. At the same time, it is the only European country on the Top 10 list below. This very high rank shows a general trend across majority of the branches of Polish economy. Looking closer at the IT sector we are able to notice even bigger contribution to the worldwide tendency of delegating services outside organizations.
2016 A.T. Kearney Global Services Location Index™ Top 10
One of the very popular web portals focusing on challenges of the programming world called HackerRank has released an opinion-forming ranking where Poland is listed as the third country with best-skilled developers. A better average score obtained during objective coding challenges was granted only to Russia (2nd place) and China (1st place). With a total number of 98 points (on a scale up to 100) Poland beats such IT powers as Japan, Singapore, Canada, South Korea or the United States.
Which country has the best developers?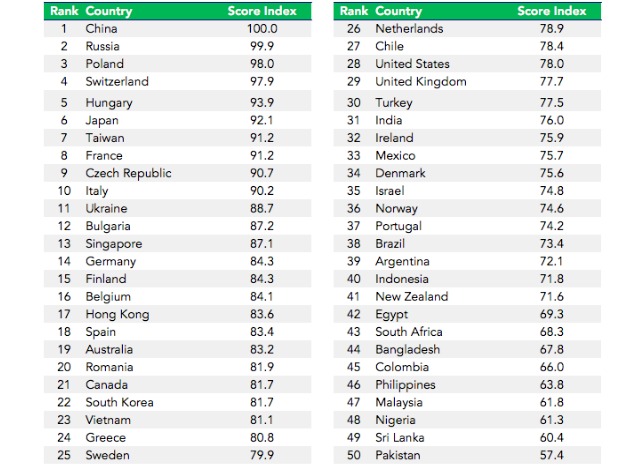 Why is Poland the best place to hire developers from?
Even though Poland came third in the HackerRank Programming Olympics, Russia and China won that race by a thread. So what makes a 300.000 km2 state only slightly less efficient than the biggest country in the world? What makes the population of 38 million only a bit less productive than the largest nation on the planet? There are 3 main reasons why Poland (without all of those advantages) is basically the best place to hire developers from.
World-Class Education
Furthermore, Polish students have won many international programming competitions, both individual and collaboratively over the last years. Having all that in mind, it is safe to say that Poland has one of the best IT education systems in the world.
Location and cultural understanding
Poland strategic position in the middle of the European continent has been a cause of many political feuds over the centuries. Nowadays, it has become one of its biggest economic advantages. One of the main reasons Poland has become an IT hub has to do with the favorable location. Why is location so important? Being right in the middle allows fast and efficient communication with many other places. Outsourcing to Poland from the United Kingdom or Germany means practically no time zone differences. Even being in the USA (6-9h difference depending on the state) you could place your order and find the result the next morning. In Poland, everything is being done while most of Americans are still asleep! Moreover, if hiring Polish developers you are not going to experience any cultural barriers. English is being thought in most of the schools in the country. Over the years it has also become one of the key skills required to get IT-related jobs at all. Many software houses (also eVolpe Software House) provide English courses for their employees. As a result, Poland is ranked 10th in the world (getting ahead of Belgium, Switzerland, and Singapore) for English skills in the EF English Proficiency Index.
Low costs
It is no surprise that low costs on the invoice are one of the most important factors shaping businesses between companies, especially if those companies are operating with different currencies. While professional software development is never cheap, Polish development teams deliver the best quality solutions for relatively low price. Why is IT services outsourcing to Poland so financially rewarding? Mainly because one of the lowest labor costs within in the European Union. According to the Association of Business Service Leaders, highly experienced Polish developers could be hired for $3.000 a month, which in comparison to the American wages, for example, is very viable.
In this article, we have listed 3 main reasons why companies turn to Poland for experienced and efficient development teams.
World-class education.
Favorable location and cultural understanding.
Low costs.
We could go on talking also about unmeasurable factors such as talent and natural predispositions but we feel like those have been advertised enough. Furthermore, it is important to remember, what makes Polish devs such good specialist is diligence and unexceptional work ethics! To sum up, it seems adequate to quote an additional study. Same company we have mentioned before – HackerRank – published one more interesting approach to the results received during the Programming Olympics experiment. The research we are talking about shows the likelihood of giving up during a certain coding challenge.
Which country never gives up?
Source: Which Country Would Win in the Programming Olympics?, https://blog.hackerrank.com/which-country-would-win-in-the-programming-olympics/.
Also in this competition Poland came third with only 2,7% likelihood of never finishing a task. Looks like Polish development teams are not only skilled but also very persistent. All of those things together simply make the best partner in business you could ever ask for!
****
For more information about hiring developers from eVolpe Software House go to: https://evolpe.software/software-house-services/development-teams-outsourcing/.