Product & UX Design
When there is no product to show, we first need to imagine what could be. Product Design is one of the most important stages of the bespoke software development. It is crucial for the success of the whole endeavour. Come with us on this journey! And let's make sure you get the results you anticipate. You will for sure be a part of the decision making.
6 stages of well-thought Product Design
Design Thinking is an iterative process, where UX teams constantly move through the following six stages.
There are no rules to follow these progressively. The real purpose is to get our team into a user centered mindset, so we are able to build products based on actual needs – rather than our own assumptions. Remember every UX designer and researcher mantra – you are not the user.
Emphatize
Define
Ideate
Prototype
Test
Implement
Understand
Explore
Materialize
---
---
---
Emphatize – your business under the microscope
Our mission is to discover and to understand the needs of future software's users. We will take your organization under a microscope. Be prepared to answer questions and tell us stories from your everyday business life. The more understanding of your ventures we have, the better product we will be able to create.
Define – let's focus on what the problem actually is
Your employees feel overwhelmed with paperwork? Or maybe you allowed Home Office to become more permanent option for your teams and now need a solution to coordinate everyone's attendance?
If you come to us with the idea of creating a software, you most likely just recognized a problem that needs solving.
We need to know what the most burning issue is. That's where we start #MVP. And that's where our focus should be.
Ideate – possible solutions to users' problems finally in the works
Now that we know what the problems are, we will work to develop possible solutions. That's when the creative process begins and things get exciting. We will brainstorm ideas and ask a lot of questions. The goal is to think out-of-the-box, forget limitations and encourage creativity.
At the end we will have first paper prototypes and layout sketches. Perfect to kick-start the next phase of the product development.
Prototype – creating low and high fidelity mockups
Finally, the ideas come to life. Our designers quickly create wireframes to test concepts and ideas, and then turn them into fully functioning models of the final product. For that, we rely on a design tools like Adobe Xd or Figma.
Expect two types of prototypes:
low-fidelity (lo-fi) prototypes – wireframes
high-fidelity (hi-fi) prototypes – functional mockups
The later will allow you to experience color, content, clickable elements, interactions, and functionality of the future product. It's almost time to start #coding.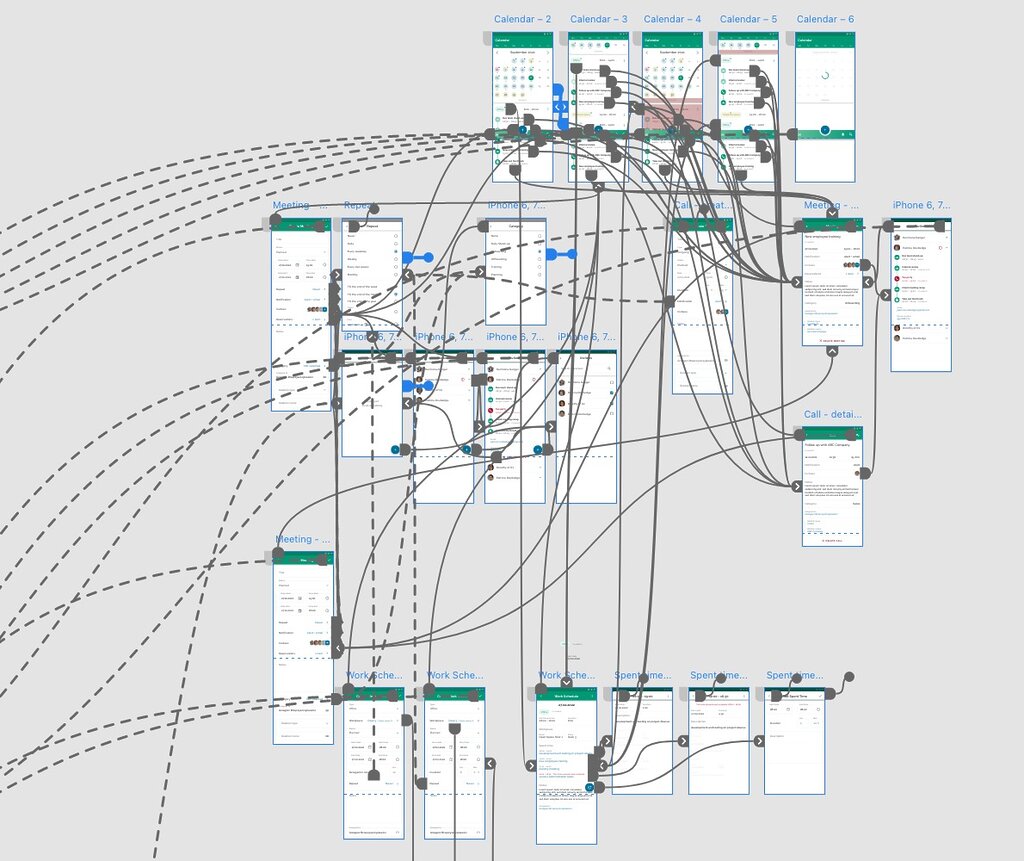 Testing – assume nothing, check everything
But first – let's ask users and stakeholders what they think about the proposal.
The best way to do it is to let them test the prototype (and later MVP) in action. There is even a saying in UX design: "test early, test often." It emphasizes how important this stage really is.
Without proper testing, we cannot proceed with the project. It is crucial that we get meaningful insight, so the product we deliver lives up to the high standards of both our organizations.
Implementation – bring the project to life
At last, it is time to let the programmers get to work. They will materialize the vision as instructed.
Our designers do not get to rest, though. They will observe the efforts of the development team, correct them along the way, and check how users like their features. If necessary, they will also rethink the solution and provide re-done mockups. Everything to make users happy!
Experts say, the implementation is actually the most important part of design thinking. But that truth often times gets forgotten.
"We need more design doing."

Don Norman, director of The Design Lab at University of California
Design thinking is very significant, but what actually matters is the execution of previous ideas. At eVolpe Software House, we pay attention to the sixth step a lot.
Get in touch, if you also consider it crucial.
Let's talk!
Sławomir Wnuk
Head of Sales
Let's talk!