Mint Mobile showcase
HCM software but in a mobile phone? Why not?
We come to you with a full set of typical soft HR features available not only via browser but also within a mobile app. They might come in handy as you work on-the-go, from a business trip or from home.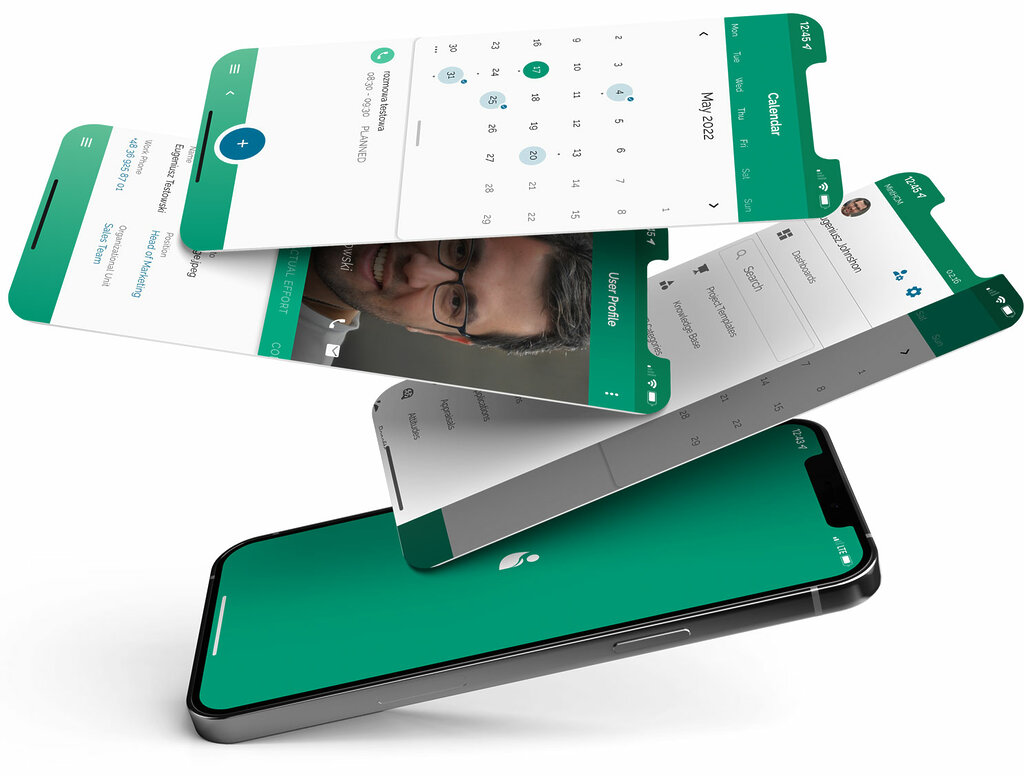 Calendar
One of the most useful features when it comes to a mobile HCM app is its integrated calendar feature. We made sure it looks clear to the user. We color-coded some information, so it is easier to understand when someone is off and when a meeting takes place. Just take a look at how easy it is to plan your days with such a mint tool.
Time tracking
Difficult times call for innovative solutions. Also, when it comes to managing time spent at work. Maybe you work from home, maybe you often take business trips or get posted to work abroad.
Even if you rarely leave your office – a mobile app is a very convenient way to keep track of the hours spent on different projects. Plus, you get to see what everyone else is doing.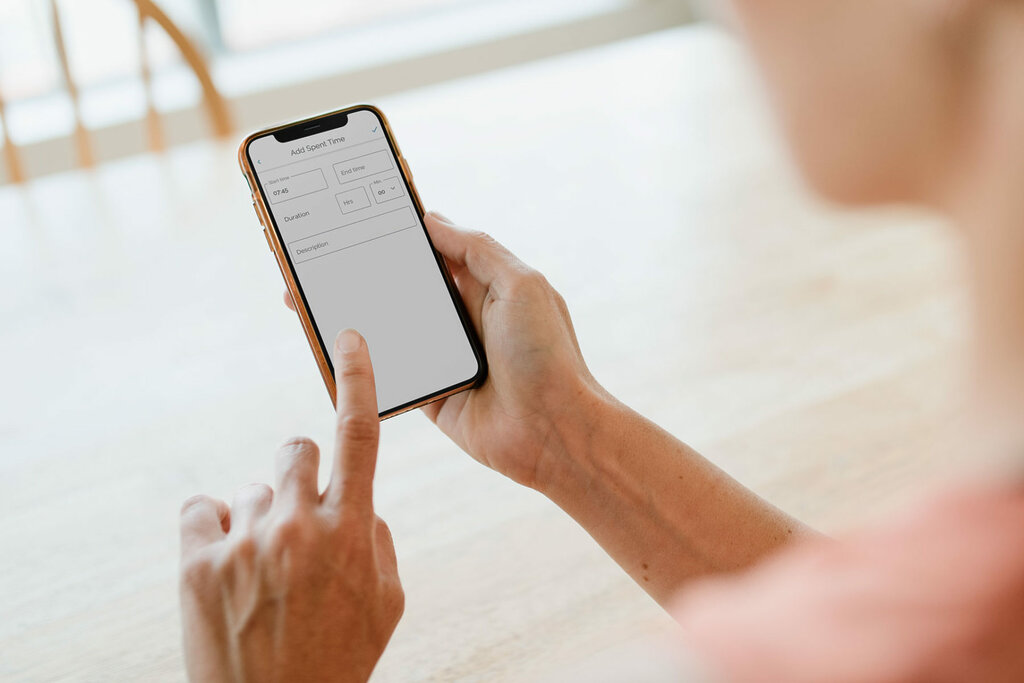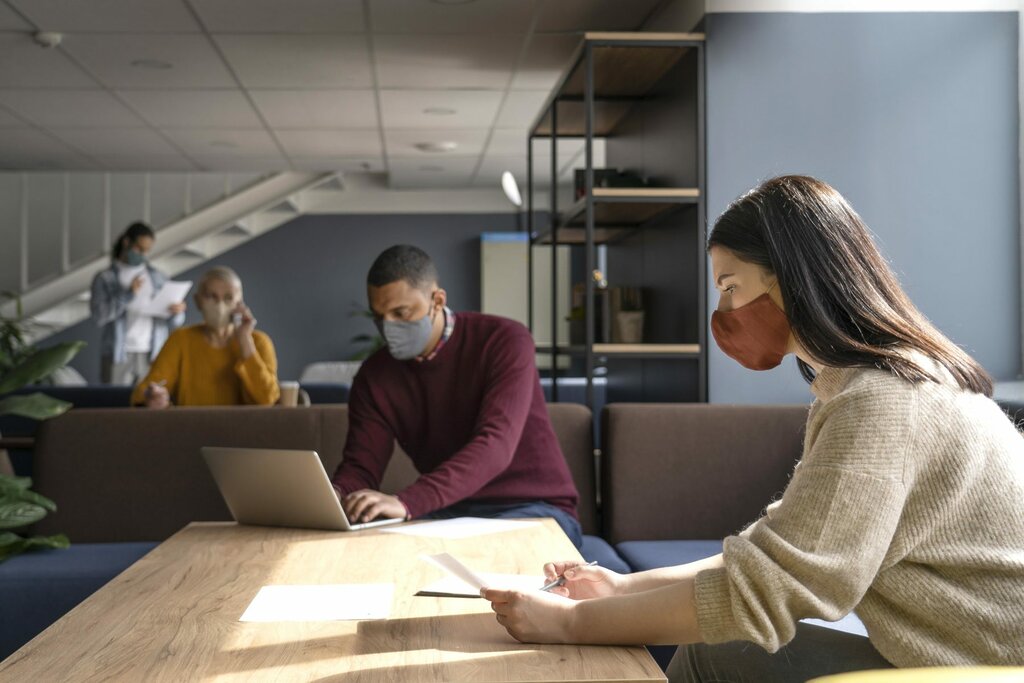 Workplace
The pandemic possibly forever changed the way we do our jobs. Right now, we all see Home Office for what it really is. An opportunity for working parents, people with disabilities, long distance commuters, introverts and anyone with a cold. Turns out, we do not need to show up at the office every day to do our job well.
Plus, there are some savings in that.
Since your employees can rotate and show up only on given days – we provide you with a tool to coordinate the whole process. Later, you will be able to analyze the trends. With a significant percentage of employees working from home and smart space planing – you might be able to save some money on rent.
Employee Profile
How many times have you been searching through your inbox to find the first e-mail you ever got with all employment details some years back? It seems like a small thing, but will definitely make your life easier to have it all in an app.
Mint Mobile will save you trouble when you need to quickly access some personal data. For example, the VAT number of the employer or the exact time you have been employed for.
Resources booking
Apart from a typical calendar where you can see the ongoing meetings and such, there is also another one used for booking common resources.
For example, if you need to request a company car, you will see its availability on a user-friendly calendar.
In the mobile app you also get to access the full list of assets owned by the company. It might be useful during some shopping time, just to see if you own enough computers or tablets.
Recruitment
Recruiting people very rarely happens while behind a desk. Most likely, you will be getting calls and messages on your phone almost non-stop. Remember about the work-life balance principle, and you might actually make it your upper hand to have your HCM system installed on your mobile.
If you respond immediately, the candidate will be more likely to speak with you, even at a later hour. They will also appreciate the feedback that is in sync with former arrangements.
There is no shame in scheduling a phone call for another time that suits both sides. But there is loss in ignored messages and past the expiration date applications. Thanks to Mint Mobile, you are always one step before the competition. Use it to boost your recruitment success rate and employ the best specialist before someone else does.
Onboarding
Let's imagine someone new joins your team. It for sure will be a busy day. You will now need to follow a process. HR specialists call it onboarding.
To make it easier, Mint Mobile provides you with a road-map of procedures that need to be done before the employee enters the building on their first day.
It also delivers a variety of features in order to
Thankfully it is in an app! You will be able to cross those things off on the go.
And much more…
MintHCM comes with over a dozen features. And everything you get in your browser, you are also able to get in a mobile app.
Start using it right away, straight from your preferable app store or let us customize it to suite your specific needs.
Let's talk!